2019-09-02 18:40:16
Football
European Transfer Window Deadline Day
English clubs were prevented from securing any further transfers when their summer transfer window closed 3 weeks ago. However European clubs are still able to transfer until today.

There has been plenty of speculation at Tottenham surrounding Vertonghen and Eriksson and Pochetino said it has been his worst few weeks as a manager. However he did say it would be near impossible for Spanish giants Real Madrid to secure the services of their playmaker Eriksson. There was time however for Celtic to launch a late bid to take Victor Wanyama on loan which looks set to progress before the deadline.

Most of the speculation this summer has been around the worlds most expensive and the very contraversial Neymar. It does however look like he will be spending at least 1 final year at PSG, or at least 6 months, despite his efforts to push through his move back to Barcelona.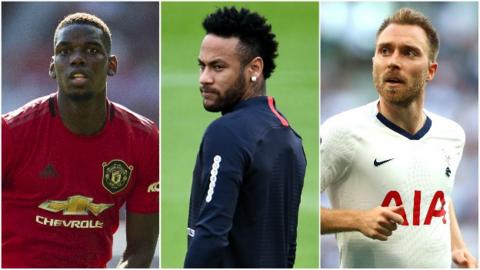 Icardi has made the strangest of moves by signing a new deal with his club, before being loaned to PSG for 1 year. This raised speculation that Neymar was set to return to Barca however nothing is yet to have materialsied with PSG saying they haven't received any offers for the Brazilian star.

Manchester United boss Solskjær reitterated several times that he expects Pogba to still be a United player at the end of the window and said a suitable repladcement would need to be found for them to consider letting their star asset leave the club. This looks like a non starter as no offers have been made for the French World Cup winner.
Henrikh Mkhitaryan has joined Roma on a year long loand and the player he swapped with, Alexis Sanchez has completed his year long loan to Inter Milan with United paying 75% of his wages.

Real Madrid have signed goalkeeper Alphonse Areola from PSG on a season long loan deal as backup.