2019-05-15 13:03:30
Football
Griezmann to Barcelona?
Antione Griezmann has announced in an emiotianal video that he will be leaving Athletico Madrid after a 5 year spell with the Spanish club. 
A 5 year spell that has seen Antoine Griezmann rise in popularity and fame to one of the biggest footballing stars in the game. Griezmann has won the Europa League and the Eurpoean Super Cup and a Supercopa De Espana. He has also scored an incredible 133 goals in 255 appearances, however it appears his last game could be against Levante on Saturday.
Griezmann did sign a 5 year contract extension last summer, however it included a release clause of £110 Million and Barcelona look set to trigger that.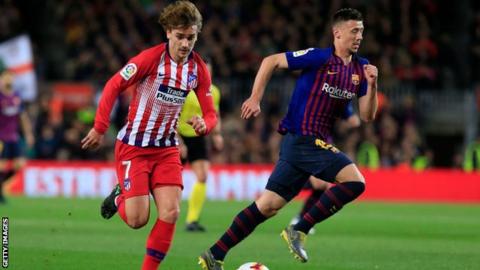 In the video that was posted on his Twitter account, Griezmann said "It has been an incredible 5 years, thank you for everything" to the loyal supporters of the club. He signed off pronouncing that Athletico will always have a place in his heart.

Griezmann did reject the oppurtunity to join the Spanish giants Barcelona last summer when he extended his deal with Athletico. He voiced his thought process behind the decision in the documentary "The Decision".

Antoine Griezmann the world cup winner will join Lucas Hernandez and Captain Diego Godin exiting the club.

There is heavy speculation around Coutinho and Suarez potentially leaving the club, however could they be used as a bargaining tool to persuade Athletico to part with Griezmann, or will they head elsewhere?