The U.S. Open : Gary Woodland fights off Brooks Koeka to win
38 year old American, Gary Woodland has produced some stunning golf to land his first ever major. The world number 25 faught off Brooks Koepka, Justin Rose and Rory McIlroy to finish 13 under.

England's Justin Rose raced off to a lead with a record equalling day 1, started the day in the lead and produced a birdie however he fell back in the leadings as he shot a 74 with Gary Woodland shooting a 69. Justin Rose went on to fire five bogey's on the day and watched his chances of landing his second major disappear.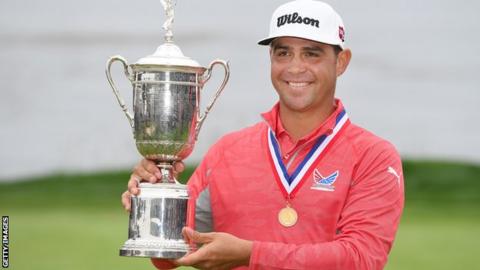 Tiger Woods did threaten to come back however shot 4 bogeys in five holes to fall back in the leaderboard. He then shot 6 birdies in 8 holes to reduce the lead and go back under par with a 69 round, however this was too little too late. 

Koepka started the day 7 under a fired in 6 birdies in 8 holes as he drew level with leader Woodland, however his putting let him down as he fell back once more. Koepka congratluated his fellow countryman and blamed his loss on missing simple puts.